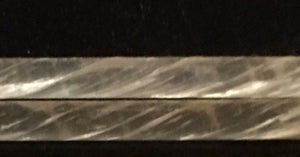 Basic Natural Snare Gut, 48" or 18 ft.
Regular price
$7.00
$0.00
Unit price
per
This snare gut, imported from Pakistan or India, is the most economical option for most rope tension snare drums. We offer basic snare gut in 2 gauge thicknesses, in lengths of app. 48" for all strainers other than the J hook strainer, which requires the roll we offer of app. 18 ft.
This gut may be purchased by the length, by the roll, or by the set for a specific strainer.
11 gauge is standard for rope tension drums, and thicker than 13 gauge.
SEE THE MAINTENANCE MANUAL FOR INFORMATION ON RESETTING OR REPLACING SNARE GUT.
---