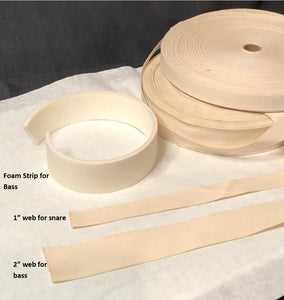 Bass Drum Web/Foam Strip Muffler Material
Regular price
$1.50
$0.00
Unit price
per
We recommend muffling the bass drum on each side with one strip of 2" wide cotton canvas webbing that has a foam strip applied in the head contact area, mounted off-center. Purchase 2 lengths of webbing and 2 lengths of foam to complete 1 entire bass drum. SEE THE MAINTENANCE MANUAL FOR MOUNTING INSTRUCTIONS.

The webbing is sold in 3 ft. lengths. This is enough to cross the shell off-center and allows for overhang on each side to tighten (just cut off any excess material for smaller diameter drums once the muffler strip is in place).

The foam strip is sold in 18" lengths. This is enough to cover the center of the webbing strip without touching the edges (just cut off any excess length before mounting). The foams trip must be added after the webbing has been mounted on the drum.
---